Six months on from the passage of the IMO 2020 initiative – the International Maritime Organisation ruling that required the marine sector to reduce sulphur emissions by over 80% – how has the market responded to the new position, asks Andy Laven, COO of Sahara Energy Resources DMCC
Back in 2016 I gave a presentation at an industry conference where I asked the audience whether the IMO would delay the implementation of a point 0.5% sulphur cap for marine fuels from 2020. The results were clear – the vast majority expected a delay.
Much of the discussion at the time related to increased costs, lack of availability and fuel quality issues, so the response was not surprising. My view was that the decision was political and that, given the environmental context, it would be impossible to delay. Following the ratification of the decision, most articles focused on the challenges and problems that the change would cause.
The transition to a new fuel specification was expected to be slow. There was a feeling that marine gasoil (MGO) would come to the fore and that there would be a significant oversupply of 0.5% high sulphur fuel oil (HSFO). Distillate prices would increase and HSFO prices would collapse, with many also expecting there would be a significant number of quality issues with incompatible fuels and poor control in the supply chain. But what really happened?
The graph shows the price of HSFO and 0.5% low sulphur fuel oil (VLSFO). From January 1, 2020, the former can only be used by a vessel that has an exhaust gas cleaning system, generally known as a scrubber. Two things are worthy of note. In mid-September 2019 the price of HSFO was briefly higher than VLSFO, and the peak difference in price was shortly after January 1, 2020.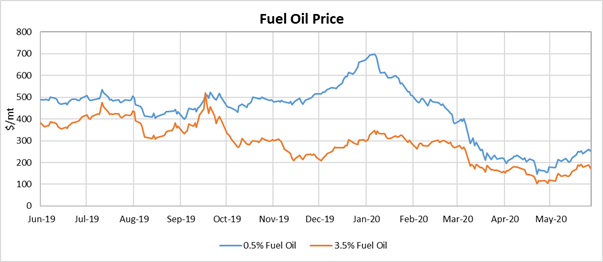 While the talk was negative, the industry proved very capable of rebalancing and the shift to VLSFO started during the third quarter of 2019. The spike in HSFO was driven by restricted availability as storage shifted to VLSFO. The price of VLSFO rose, at times to higher than the next alternative, MGO. As the supply chain became more robust and stocks of VLSFO built up, the differential to HSFO dropped.
On occasions, HSFO actually became more difficult to purchase than VLSFO.
Virtually no-one switched to MGO. The early transition to VLSFO provided suppliers with time to shift their supply chain over to the new fuel. Refiners proved very adept at re-routing their streams and producing VLSFO. Proactive suppliers like Sahara Group were able to source and blend fuel oil to the new requirements.
The most dramatic change was that the demand for HSFO collapsed, but so did the supply. As a result, the prices for HSFO have remained remarkably stable, despite the changes. In March, oil prices fell, owing to the impact of COVID-19 and oversupply, having an impact on fuel prices. Despite this, HSFO prices remained stronger than VLSFO.
Quality hasn't really been a problem either. The main two supply issues have been the level of sulphur and fuel stability. Additionally, there have been more reports of engine wear – as…


Read More: IMO 2020: coming up VLSFO – News for the Oil and Gas Sector