Thai Airways International has proposed appointing an additional person with state-owned enterprise credentials to join the five other people, as well as a professional services firm, tasked with drafting a turnaround plan for its beleagured business.
The Thai flag carrier, which had its application for business rehabilitation accepted by a court on 27 May, wants former president and chief executive of Thai oil and gas company PTT, Chansin Treenuchagron, to become a rehabilitation planner. The airline had appointed him to its board on 4 June, though it did not announce his appointment until 8 June.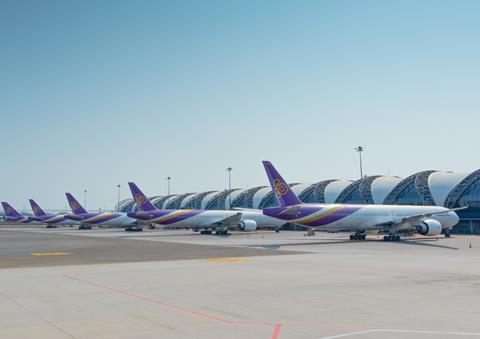 Treenuchagron took the helm of state-owned PTT in August 2018, and served as president and chief executive until May 2020, according to his profile on the company's website.
Treenuchagron replaces Pailin Chuchottaworn, another former PTT president and chief executive, who resigned from Thai's board after just one day following his 25 May appointment. Chuchottaworn had resigned over "potential legal worries", as he was a deputy transport minister from November 2017 to December 2019. The country's National Anti-Corruption Commission bars a cabinet minister from sitting on the board of a private company for two years after leaving the cabinet, according to a 27 May report by The Bangkok Post.
Meanwhile, the airline's legal advisor Kitipong Urapeepatanapong told a news briefing that the rehabilitation timeframe would be five years, extendable by two years, according to an 8 June report by Reuters.
"The Thai Airways rehabilitation plan should conclude within seven years, which can include debt to equity conversions, selling assets or an equity injection," he says.


Read More: Thai proposes oil and gas executive as additional rehab planner