Aberdeen should use a giant decommissioned oil platform as a "first class tourist attraction", according to a long-standing city campaigner.
Bill Skidmore, a 30-year oil veteran, said it is time to "grasp the opportunity" to use a rig, such as Shell's recently decommissioned Brent Alpha, as a "unique" site for Europe's oil capital at the new harbour expansion.
Industry body Decom North Sea said the idea has precedent, with the Ocean Star rig-turned-museum in Galveston, and it could drive extra value from assets that would otherwise be scrapped.
Meanwhile, Aberdeen City Council said a "number of tourism proposals such as this" have been raised, though it has not been asked to consider this specific example.
It comes as several North Sea structures are being decommissioned as they come to the end of their production lives, such as the Brents.
Mr Skidmore, who has worked offshore, said a bridge from shore concept could include walking, boat and even helicopter tours, with meals served in the rig's mess hall.
He said: "It would a great opportunity for Aberdeen to make use of one of these oil platforms being decommissioned and set up a new tourist attraction.
"When I saw the picture of the Brent Alpha when they brought it to shore, I thought it would be great to get a hold of one and sit it out near the harbour where all the cruise ships are supposedly going to be coming in.
"Only people who work offshore get to experience it, so, to me, it would be a great tourist attraction for people to see what it is like to walk around and experience the size of these things."
A similar idea has prevously been pitched for Rubislaw Quarry, which Mr Skidmore does not think is appropriate.
"I don't know who came up with that idea but it was totally daft," he said.
"You've got a quarry that is in its own right a unique tourist attraction, or could be. You don't spoil it by putting an oil platform in it."
Mr Skidmore, a staunch campaigner against several city council developments like Marischal Square and the East Tullos energy from waste plant, said the harbour plan would drive tourists into the city to spend cash in hotels and restaurants.
He said it was "incredible" such an idea hasn't already been developed, criticising a lack of "vision" for the city's tourism plans.
He added: "It's the oil capital of Europe for goodness sakes yet, aside from the Maritime Museum, they've got no tourist attractions to do with the North Sea oil production."
Councillor Marie Boulton, the local authority's culture spokesperson, said a "number" of such proposals have been raised and the "feasibility of them is obviously key to any developers or promoters".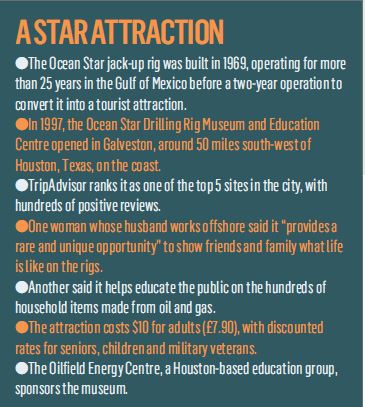 She also pointed to the council's "Destination Strategy" to drive footfall and visitor spend to £1bn by 2023, through measures including capitalising on the P&J Live arena and investment in the newly refurbished Art…


Read More: Aberdeen should use decommissioned oil platform as 'first class tourist