When close to half the companies in India have price-to-earnings ratios (or "P/E's") above 13x, you may consider Oil and Natural Gas Corporation Limited (NSE:ONGC) as an attractive investment with its 9.5x P/E ratio. However, the P/E might be low for a reason and it requires further investigation to determine if it's justified.
Oil and Natural Gas could be doing better as its earnings have been going backwards lately while most other companies have been seeing positive earnings growth. It seems that many are expecting the dour earnings performance to persist, which has repressed the P/E. If you still like the company, you'd be hoping this isn't the case so that you could potentially pick up some stock while it's out of favour.
See our latest analysis for Oil and Natural Gas
How Does Oil and Natural Gas' P/E Ratio Compare To Its Industry Peers?
We'd like to see if P/E's within Oil and Natural Gas' industry might provide some colour around the company's low P/E ratio. You'll notice in the figure below that P/E ratios in the Oil and Gas industry are similar to the market. So unfortunately this doesn't provide a lot to explain the company's ratio right now. Ordinarily, the majority of companies' P/E's would be supported by the general conditions within the Oil and Gas industry. We'd highlight though, the spotlight should be on the anticipated direction of the company's earnings.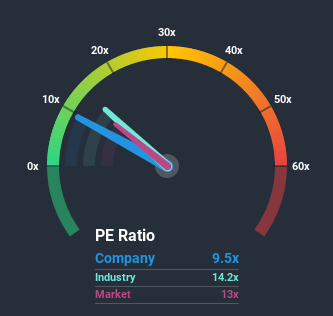 If you'd like to see what analysts are forecasting going forward, you should check out our free report on Oil and Natural Gas.
Does Growth Match The Low P/E?
There's an inherent assumption that a company should underperform the market for P/E ratios like Oil and Natural Gas' to be considered reasonable.
Taking a look back first, the company's earnings per share growth last year wasn't something to get excited about as it posted a disappointing decline of 64%. The last three years don't look nice either as the company has shrunk EPS by 54% in aggregate. Accordingly, shareholders would have felt downbeat about the medium-term rates of earnings growth.
Looking ahead now, EPS is anticipated to climb by 27% per year during the coming three years according to the analysts following the company. With the market only predicted to deliver 14% each year, the company is positioned for a stronger earnings result.
With this information, we find it odd that Oil and Natural Gas is trading at a P/E lower than the market. It looks like most investors are not convinced at all that the company can achieve future growth expectations.
The Key Takeaway
Typically, we'd caution against reading too much into price-to-earnings ratios when settling on investment decisions, though it can reveal plenty about what other market participants think about the company.
We've established that Oil and Natural Gas currently trades on a much lower than expected P/E since its forecast growth is higher than the wider market. When we see a strong earnings outlook with faster-than-market…


Read More: Sentiment Still Eluding Oil and Natural Gas Corporation Limited (NSE:ONGC)